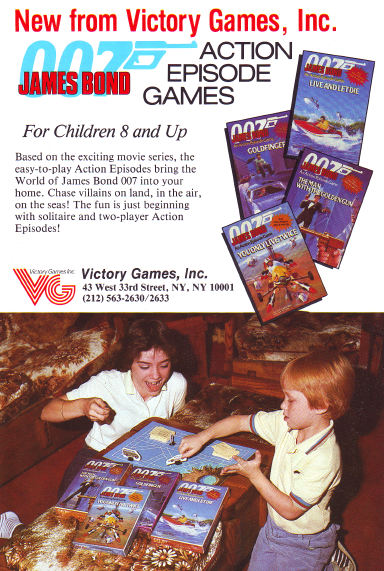 I found this four page gem of an advertisement tucked in a recently acquired copy of James Bond 007: Assault! (Victory Games, 1985). The game itself is a modestly complex game reenacting the assault on the volcano fortress from You Only Live Twice, with rules for adapting the game (and the underlying tactical combat system) for use with VG's James Bond 007 RPG.
These roll-to-move "Action Episode Games" are hardly challenging for anyone who received the flyer in the Assault! game—as the flyer notes, they're "For Children 8 and Up." While possibly the games could be used in conjunction with the RPG, the intended demographic seems to be the children of wargamers/RPGers.
The gamer parents I've spoken with seem united in the hope that their children to also take up gaming. Hang around gamers of any stripe long enough and you hear the lament about the "greying" of the hobby. This old VG advertisement taps into the desire to grow a new generation of gamers, with games that provide a stepping stone into more complex simulations, taking kids who were skipping around Candyland into the Funhouse Maze from The Man with the Golden Gun, dodging Scaramanga while pursuing the Solex Agitator.
The games do appear to have some heft to them—fifty cards in one, an ammunition record pad in another, and at least a modicum of strategy required. These games had to be fun right out of the box and be simple enough for the stated audience to play—a very different design requirement than the usual VG fare.
Of note, the very happy children in the very 1980's living room are actually using a playtest version of the You Only Live Twice action episode game map with pieces from the James Bond 007 RPG Gamemaster Pack.
Interior pages and back cover of the flyer after the jump.

Inside left page:
Inside right page:
Back cover:
I'll have to keep my eye out for copies of these "action episode games."