After a fortnight of arctic cold along the entire Eastern seaboard of the United States, the sun made a stunning, if temporary, return, punching temperatures up to the sixty degree mark in the middle of January. And what did I, and 149 other dedicated board wargamers do? We huddled inside a large conference room at the Comfort Inn in Bowie, Maryland, for the 2018 edition of Winter Offensive, sheltered away from the brief spell of warmth. Rain and snow and sunny skies will come and go, but a chance to game with friends new and old? That's worth spurning the sun for a few days.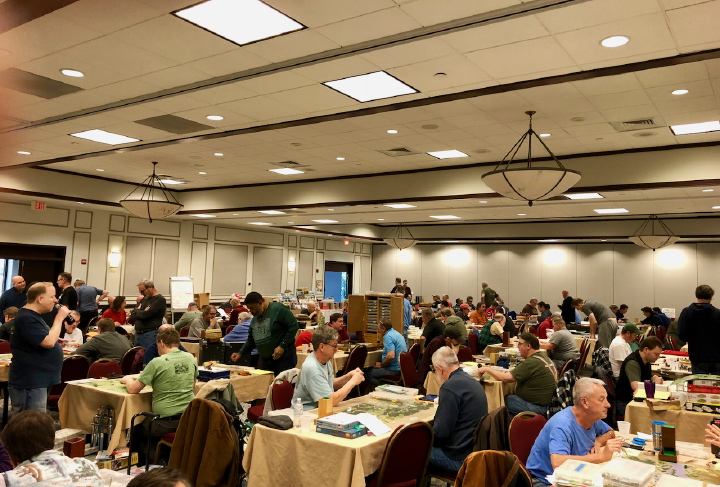 Hosts Multi-Man Publishing put on another well-run show, with their venerable Advanced Squad Leader tournament seeing games of all stripes being played. Attendance of 150 was near the all-time high of 165, spurred no doubt by the release of the long-awaited Korean War module for ASL. The new module adds counters and rules for the North and South Korean armies as well as United Nations and Communist Chinese forces, and copies were flying off the sales table as quickly as, well, as a several pound box could fly.
My first game of the weekend came against Doug Bush, great gaming buddy and designer of Next War: India-Pakistan and the forthcoming Red Storm, both from GMT Games. We sampled a scenario from the recently released Saipan: The Bloody Rock, the first entry in Compass Games' Company Scale System. This game sits between the tactical and operational (and, indeed, has rules roots from the Grand Tactical Series put out by MMP as well as the earlier Panzer Command), with random chit draws determining which formations are able to act. The key to the game is doing what you can with the chits you get, because they seldom come out of the draw cup in the most efficient order, and you're not guaranteed to be able to receive every formation's chit every turn.
The scenario we played covered the initial US Marine landings on Saipan; Doug had the leathernecks and I took the Japanese forces tasked with keeping the Americans confined to the beaches. The system, through the chit draw mechanic, really tries to simulate the command and control confusion inherent in any military operation. The problem of the omniscient player sitting above the map with perfect knowledge can sometimes be offset by stripping the player of omnipotence, and this game does a nice job of frustrating any plans that the player may have—and that's before your opponent has a chance to have his or her say.
In the end, my forces were able to inflict sufficient casualties on Doug's to eke out a very narrow win. Had the Marine landings not been pushed into a confined area due to surf drifts, I think they would have been able to break out of the beachhead much sooner to secure a solid victory. A good match in a very promising system with one of my favorite opponents.
On Saturday, I cracked open the Korean War module for my traditional ASL match against another of my good gaming buddies, Mike Vogt. Always on the lookout for interesting situations with funky, seldom used game pieces, we picked a scenario (215 "Red Devils") featuring a US Army artillery park, with six self-propelled artillery pieces, being overrun by a swarm of Communist Chinese squads.
My American Redlegs had only a few squads with which to defend the valuable guns, but they were amply supplied with firepower, and Mike's Chinese had a lot of open ground to cover. He did his best to balance the scenario's time limit with the need to keep enough squads in good order to destroy the guns, but between my frighteningly hot dice rolling and all the weapons at my disposal, including a blast from one of the monster guns, he fell just short. Once the Chinese got in close, they couldn't be stopped, but the getting-there was the problem.
The scenario didn't offer many interesting tactical puzzles for either of us—I pretty much just fired my weapons and he pretty much just moved to try to cover the space. I think we both would have preferred a more nuanced scenario, with each side having to move and shoot and outthink the other. A fascinating action, and a cool premise, but it didn't check all the boxes we would have liked. Regardless, I had a blast playing with Mike, as always, and I do appreciate his forbearance over my extra-lucky dice rolling. We've got a standing date for another scenario on Saturday next year.
Keen eyes will have noticed that the Communist Chinese (two-tone brown) in the picture have already been counter-corner-rounded. Yes, I did indeed bring an X-Acto knife, self-healing cutting board, and, of course, a handy dandy counter corner rounder with me to Winter Offensive, and I actually wasn't alone. I probably saw ten of these miracle instruments on tables throughout the course of the weekend. Playing with un-rounded counters strikes me as simply uncivilized…
What the inevitable side gaming lacked in quantity this year, it made up for in quality (not to mention duration). On Friday night, Mike, Doug, long-time buddy John Slotwinski, and I took to the heavens once again in High Frontier, by Sierra Madre Games. Every time this behemoth of a game hits the table (with, yes, a thud), it takes at least an hour of play to get our heads around the rules required to put a functioning spacecraft into orbit around various bodies in the solar system, to say nothing of the requirements to put one on another planet (and possibly even bring it back to Earth). But once it's all clicking, the satisfaction in actually putting that solar-sail powered exploration probe into Mercury's magnetosphere (on purpose, that is!) can barely be beat.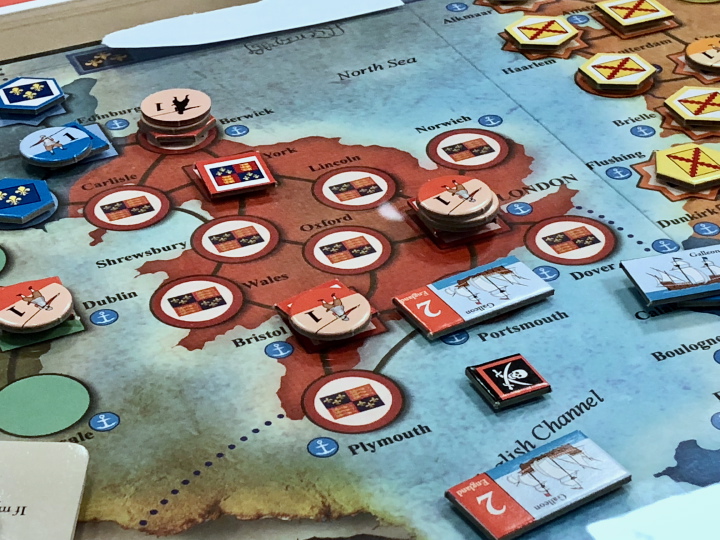 Where, usually, Saturday night features a raucous game of Battlestar Galactica, replete with all the backstabbing and treachery that a group of determined friends can muster, we opted instead for a no-less treacherous game on the politics of the age of religious transformation, Virgin Queen from GMT.
A card-driven point-to-point game in the long tradition of We the People, Virgin Queen simulates the struggles surrounding the spread of Protestantism in the era of the game's titular ruler, Elizabeth I. Joined by Doug's friend Will, we fought through several years of intrigue that culminated in Spain being at war with the nascent Netherlands, France, and the Ottoman Empire—and doing well at it, too! Mike's England took advantage of the turmoil and garnered enough points via less militaristic means to take a win when we called the game. It took us a good six hours to get through three turns (with breaks for pizza and such), but given growing familiarity with the rules, we started moving along much more quickly towards the end.
So, though the sun may have shone brightly (and then just as promptly disappeared), I consider myself to have had the better experience indoors over the duration of Winter Offensive 2018. My thanks, as always, to Perry Cocke, Brian Youse, and the rest of the crew at Multi-Man Publishing for yet another wonderful long weekend of gaming, and of course to my good gaming buddies, who, with only the slightest of grumbles, put up with my dice and derring-do every year.