The essence of Winter Offensive, the premier Advanced Squad Leader tournament on the East Coast, resides in the well-worn flip chart at the entrance to the convention rooms. A similar giant pad of paper has welcomed attendees for as long as I can remember. The sign is both casual and matter of fact, just like the tourney itself. There's no pretension on display at this annual assemblage of wargamers in Bowie, Maryland; if you show up, you're welcome, part of the gang, a member of the club. Fancy printed banners and elaborate registration procedures have no place here. There's not an attendance lanyard or wrist band in sight, unlike just about every other gaming convention around these days. You're on your honor to pay the registration fee, as hosts Multi-Man Publishing would rather be gaming themselves than babysitting would-be scofflaws.
Attendance came in at 214, a record number by far, though the room didn't seem quite so crowded on Saturday this year as last year, when table space was at an all-time premium. The threat of inclement weather on Saturday might have driven away some of those who attended on Thursday and Friday. Having all four sections of the big convention hall open from the get-go helped greatly in spreading people out, leaving the atmosphere cozy but not cramped.
Two ASL products made their debuts this year, the Deluxe ASL Module and the new edition of Croix de Guerre, the French extension to the game system that now includes dedicated counters for Vichy and Free French troops and Dan Dolan's long-awaited Dinant Campaign Game. The large-format Deluxe ASL maps were much in evidence this weekend, as the new module reprints all existing DASL maps in the "new" thin-format style and includes revised editions of practically every official DASL scenario ever published.
Croix de Guerre, by contrast, didn't seem to garner much table space, at least on my peregrinations through the room, though they were flying past the cash register. Perhaps this can be chalked up to the fact that CdG comes with eleven countersheets, all needing to be punched, corner-rounded (for those with discriminating tastes), and integrated into existing counter storage systems. It's a monumental task, one that I, personally, decided would be better tackled at a later date. The package looks superb, with a bevy of updated scenarios, a crisp look for the French, and a meaty campaign game in the large box. There's lot of play in that box.
My own game tally for the weekend came in at six plays: two Advanced Squad Leader scenarios and one playing each of Greenland, Pax Porfiriana, Pax Pamir (2e), and Brass: Birmingham.
Staring the festivities, I squared off against one of my oldest gaming buddies (in terms of years known, though none of us are getting any younger!), John Slotwinski. Continuing our Korean War theme from the last WO, we trotted out 210 This Is Where We Stand from Forgotten War, pitting forty-five (seriously) Chinese squads against a mere sixteen USMC squads, at night, in extreme winter, with steep hills. My troops needed to completely clear the hills of John's Marines, and while I pushed him back a bit, he and his copious firepower outlasted my onslaught for the win. The rules overhead involved ranks as perhaps my most daunting Advanced Squad Leader experience in at least a decade, with ordinary actions, like simply schlepping from one hex to another, taking on new dimensions because of the weather, the darkness, and the special traits for Chinese infantry movement. An exhausting, but thoroughly enjoyable, scenario against a one-time Winter Offensive winner.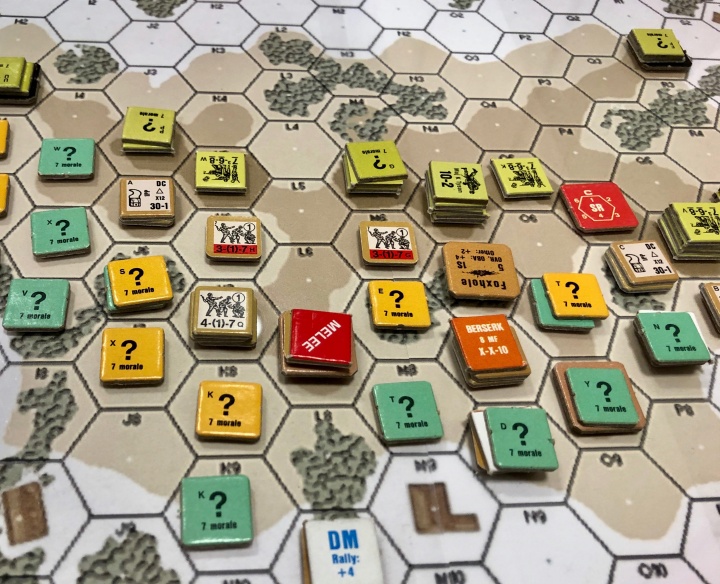 Long time gaming buddy Doug Bush and I then tried out a scenario from Bounding Fire's Blood and Jungle pack, BFP 35 Mai Phu, set in Tonkin in 1940, with Japanese troops supported by six tanks assaulting the French forces holding a garrison in French Indochina. Though not a huge scenario, we spent some time with this one, as many tactical puzzles presented themselves. Doug's IJA troops ground steadily forward, attempting to take buildings, and one banzai assault in particular resulted in a massive counter stack, topped, as though by a cherry, with a large residual counter that almost never leaves the Plano.
This scenario came down to the final die rolls, with Doug needing to win four Hand-to-Hand Close Combats to secure the victory. I managed to hold two of them for a very narrow escape. Of eleven total vehicles in the game, only one was still standing at the end, pretty much par for the course in our playings. Lots of interesting moments in this one; games against Doug are never dull!

Of the other, non-wargames played, I was most taken by my playings of two games in the Pax series, Pax Porfiriana and the second edition of Pax Pamir. The former, set in the time of Porfirio Diaz's rule in Mexico, was a rare five-handed session. All-around good guys Phil Palmer and Jeff Evich and his son Mark joined Doug and me for that one. No one managed to secure a topple victory, another uncommon event in my experience—even though the topple threshold was theoretically lower with more players, no one managed to get the timing right, so Phil put together a gold victory to secure a win, with Doug and Mark putting up a good monetary fight to challenge him.
Noted raconteur Rob Seulowitz sat down with Jeff, Mark, and me for Pax Pamir, using Jeff's quite handsome second edition of the game. Pamir shares some familial concepts with its older sibling Porfiriana, notably the card market and suit-driven, icon-heavy card tableaux, but this game, set in nineteenth century Afghanistan, focuses on shifting alliances between the players of the so-called Great Game. Reading the game state requires parsing quite a bit of information, and I confess I failed to join with the winning side during any of the four dominance checks, leading me to a third place finish. Rob secured the victory there after abandoning his erstwhile Russian friends for a marriage of convenience with my Afghan faction to lock down a canny win.
The same quartet of gamers stayed together for another game, Brass: Birmingham, a fiddly, highly-interactive economic engine building game, where victory relies on the use of other players' goods and networks. The tension between creating goods you need and hoping said goods are available on your next turn, either your own or someone else's, drives the gameplay. It's an elegant system, and while the board and charts seem busy at first, once play begins it all starts to click. Jeff secured a resounding victory in this one on the back of strong resource generation, giving him a monetary edge that he turned into a dominant board position; I managed a distant second. Definitely a game that deserves multiple plays in order to really shine, as the severely limited number of turns in the game puts a premium on efficient action selection.
My thanks to all my opponents this weekend—though gaming compadres seems more fitting a term than opponents—and to MMP as well. Once more, they put on quite a show. It's not easy to keep two hundred plus gamers of all stripes happy, but they manage to do it, year after year. And when they tear off the page on the flip chart to welcome us to Winter Offensive 2021, I wager almost all of those gamers will be back for the next installment.