Is no one interested in history?
For all the fantastical planets and places Doctor Who has presented on screen, its location shooting has tended, for obvious financial and logistical reasons, to center within a day's coach drive of Television Centre, making David Agnew's "City of Death" (Story Production Code 5H) all the more striking for its quite exotic setting: Paris. Rather than dress up a London street as the City of Lights, the production team skipped over the Channel, providing some of the best location shots in the series to date. Normally, scenes of the Doctor and companion running around would be dismissed as filler, but here, the pleasant dissonance of seeing Tom Baker scampering down the middle of the Champs-Élysées, scarf flying, with nonplussed Parisian pedestrians paying him no mind, yields ample justification for the narrative interludes. No alien planet could provide such a backdrop.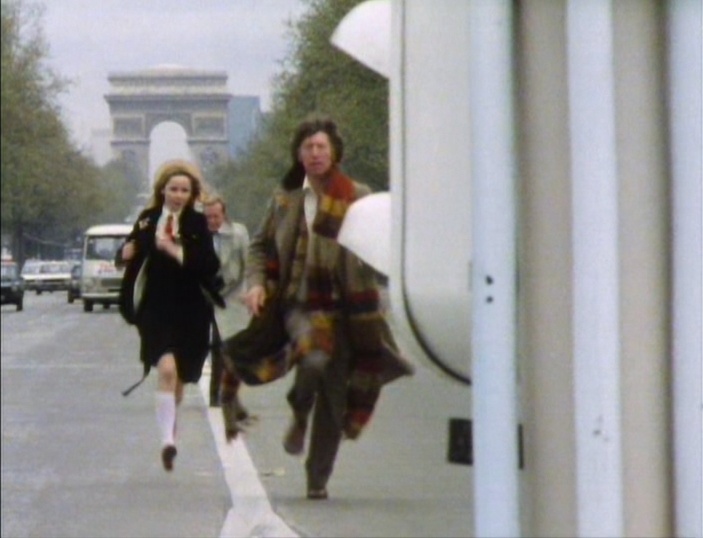 Pleasantly, the story on offer lives up to the grandeur of the location. The pseudonymous duo of producer Graham Williams and former script editor Anthony Read delivers a smart tale that makes time travel integral not only to the outcome but also to the intermediate complications in which the Fourth Doctor and Romana find themselves embroiled. Just as their prior story together, "The Invasion of Time," delved deeply (if at times awkwardly) into Gallifreyan history, adding to the series' lore while simultaneously mining it for plot beats, Williams and Read here use the full measure of the series' core conceit of time travel, having the Doctor travel through time within the story—itself a rarity—only to discover the Doctor's urbane foe, Count Scarlioni (Julian Glover), got to Renaissance Florence first. Or did he?
That Scarlioni, first encountered in Paris in 1979 funding experiments and plotting grand larceny, is somehow linked to Scaroth, a green tentacled, one-eyed creature known as a Jagaroth seen in the opening scene of the first of the story's four episodes, is obvious from the beginning; their names alone give it away. It's the nature of the linkage that drives the intrigue and interest, with the audience learning the details slowly along with the Doctor. Indeed, there's so much going on by the end of the first episode—time slips, thugs in Parisian bistros, an artist drawing Romana with a broken clock for a face, a plot to steal the Mona Lisa, wild experiments with chickens, and a gung-ho gumshoe—that it comes as a mild shock when Scarlioni rips off his human face to reveal the Jagaroth beneath.
More curious still, however, is why an alien might need to steal the Mona Lisa from the Louvre when he already has six of them walled up in a long-undisturbed cellar in his Parisian château…
Continue reading